Discover more from What the Health?!
Your TL;DR of happenings, trends & insights in Aussie Health Tech & Innovation
Over 6,000 subscribers
#42 🍩 What the Health - We made a list, Aus's Top 100 Innovators & A new health VC
Your health tech & innovation TL;DR roundup
Hola amigos,
WE, all 5709 WTHers, the team, and our amazing supporters have made a list… 🥹
For the second year in a row now, we're lucky enough to make The List: Australia's Top 100 Innovators by The Australian.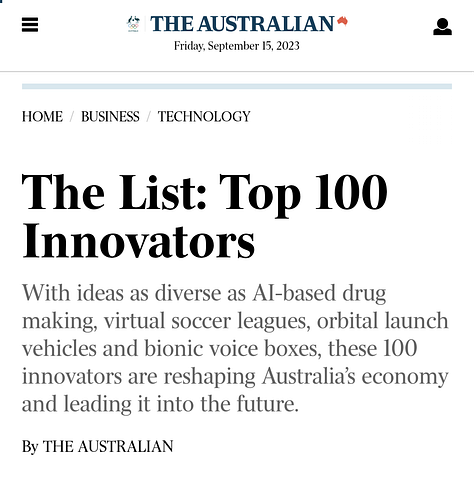 Grateful.💜
High five team. Couldn't have done it with each and every one of you!
Big congrats to our other epic WTH Crew & health innovators who also made the list - including More Good Days, Human, SimConverse, Eugene, Mindset Health & Sleeptite.

Here's to empowering everyone to live healthier and happier lives through innovation, collaboration and education.
Speaking of crew…
Wow, NZ - We called and you answered! 🔥
Last Tuesday, >92 health tech and innovation keen beans joined us for our
🍩 Auckland Health Health Tech and Innovation Hangs with our friends AWS Startups.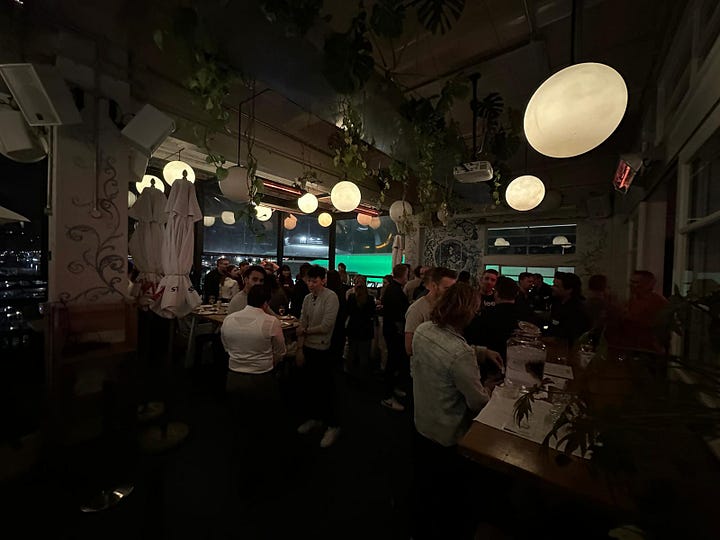 Hell yes Kiwi crew! Looks like we'll just have to come back… 🎉
---
🍩 TODAY
Newsworthy

Sick Science

AI Updates

Startup Stuff

Events

Cool Content
New here friend? Welcome!😊 Want to receive the latest drops and join our epic health tech & innovation crew? Smash subscribe and join us
---
💜 Brought to you with…
SeerPharma
Want to improve your Product/Service quality?🔥




And smash your Customer's expectations out of the park? 💪
Join SeerPharma's 4-day fully-catered instructor-led ISO 13485 course to learn Quality Management Systems for Medical Devices. Thanks to the Victorian Medtech Skills and Devices Hub (VMH), it's just $440
Learn the Purpose, Structure & Compliance with ISO 13485 (Management Responsibility, Resource Management, Product realization, Measurement, Analysis and improvement) to deliver consistent good-quality products/services, improve customer satisfaction and facilitate commercial success.

Melbourne: Commencing from Nov 13th 2023
🦸‍♀️ Are you or someone you know a budding healthcare superhero? 🦸‍♂️
Join MedTech Actuator Origin – to transform your ideas into early-stage startups in MedTech, BioTech, and HealthTech!
This program offers emerging founders the chance to kick start their journey in healthcare entrepreneurship with a supportive learning and pitch comp. The Origin winner will snag a prize pack worth >$20,000 and fast-tracked entry into the Actuator Accelerator 2024.
Keen? Don't miss your chance to help change healthcare!👇


Keen to get featured here? Flick us a note
---
Noteworthy 🗞️
Funding
💰Synthesis Capital, the newest VC fund on the block backing early-stage healthtech startups said g'day, and is on the hunt for investors as it looks to raise up to $100m
🎓Breakthrough Victoria, Vic gov's $2 billion fund backed 5 Unis with $87m to help them bring research to market
The partnerships will invest in startups spun out of research, with typical pre-seed cheques of ~$500k
🏋️‍♀️ Steppen, the Gen Z fitness app, got acquired by Alta
👃ENA Respiratory, known for its flu and COVID-fighting nasal spray, secured $3.8m from the US Department of Defence to create a shelf-stable version
🧠 Dokotela, who provide online psychiatrist services banks a $2m seed round
🌱 WA's Innovation Seed Fund dished out $4.3m to 9 health and medical ideas
💉 PainChek are looking for a $3m injection to fund the commercialisation and regulatory clearance of their pain assessment app
🚀 Startmate had 3 health startups in their Winter23 cohort ft a $120k investment
Lyrebird Health, an AI-powered transcribing tool that automates paperwork for health practitioners

Misti, a nebuliser to deliver life-saving biomolecules

BioticsAI, using AI to detect foetal abnormalities
💲Next Science, owner of medical solutions to prevent surgical and wound infections, launched a $28.9m raise for their wound cleansing solution research
Newsworthy
🛒 Woolworths' free naturopath consultations are causing a ruckus with rising concerns as experts warn of a trend toward cheaper 'McMedicine' due to the rising cost of living
🏆 Biotics.AI, a clinical Intelligence Platform for Prenatal Healthcare beat out 200 other global startups at the prestigious TechCrunch Startup Battlefield Cup taking home the trophy and US$100k
🌑 eCliPSE, a free 24/7 digital ecosystem for evidence-based treatment of depression, anxiety, substance use, and trauma launched
📉 An AFR opinion piece reckons that Australia can't be a great place to invest until we spend more on R&D
🏥 Newsweek's list of the World's Best Smart Hospitals is out, with 7Aussie hospitals making the cut:
The Royal Melbourne Hospital

Peter MacCallum Cancer Centre

The Alfred

Royal Prince Alfred Hospital

Gold Coast University Hospital

Royal North Shore Hospital

St Vincent's Hospital - Fitzroy
Even though fax is still the centrepoint of many
🙃 WildHealth summit's discussion confirmed how Australia is far behind other countries when it comes to interoperability and innovation in digital health
💍 Sydney Uni launched a Wearables Research Hub
🦽 NSW Gov launched an interactive digital toolkit to help people with spinal cord injury self-manage their healthcare
📱 Wesfarmers' acquisition of InstantScripts raises data security and privacy concerns in telehealth, prompting calls for improved regulations and patient consent
🔬 RMIT and UniSA researchers invented a nano-thin superbug-slaying material for potential use in wound dressings and implants
US & Beyond the Borders
🍄 Otsuka is set to acquire psychedelic Mindset Pharma for CAD$80m, "a rare endorsement by big pharma of the new and mostly illegal field of drugs"
🤑 People are getting educated, and looking for quality, preventative care
And putting their money where their mouth is… with healthy people paying >$3900 for a full-body scan or MRI
Some seem to think its strange, but its just the begining…
#healthiswealth
⌚ Apple's new smartwatch will allow users to access and log their healthcare data, ask Siri questions about their health, and log data with their voice
🤯 1 in 3 medical students plan to quit the NHS within two years of graduating
💊 Verge Genomics teamed up with AstraZeneca in a $882m AI drug discovery deal
📉 Babylon, the digital health darling that recently declared bankruptcy sold off its UK parts for just $620k
🇩🇰 Novo Nordisk is saving Denmark from a recession - selling $4B in weight loss drugs alone in the first half of the year
💹 Under-50s being diagnosed with cancer has risen by ~80% in just 30 years
🍷 Weight loss drugs like Ozempic seem to also cut the desire to drink, with 22% of people surveyed quitting alcohol too
🏃 A WHO report predicts that a lack of exercise will cost the world economy more than $27b annually between 2020–2030
📚 Researchers at Charles Darwin University have shown that co-design is hugely missing from suicide prevention tech
Sick Science
🥼 Psilocybin-assisted therapy for depression a success?
A new study published in JAMA suggests a lasting antidepressant effect for at least six weeks and notable improvements in psychosocial functioning after use
🤧 The FDA says phenylephrine, the common over-the-counter decongestant… actually doesn't work
🧲 Magnets to treat depression?
Transcranial stimulation - a non-invasive treatment using magnetic pulses to stimulate specific regions of the brain, is showing promise for OCD, addiction and ADHD
🧠 Scientists kill brain cancer with quantum therapy?!
Researchers at the University of Nottingham have devised a unique spray treatment method to cure glioblastoma, spraying "bio-nano antennae", special molecules that signal cancer cells to activate programmed cell death
👁️ Eyes can show signs of Parkinson's disease up to 7 years before diagnosis
Researchers have discovered markers in eye scans indicating the presence of Parkinson's disease well before clinical symptoms appear
🩸 A blood test to screen for Alzheimer's disease?
A new test called p-tau217, is able to either identify or exclude brain amyloidosis, the most important and earliest pathology
---
🤖 AI Updates…
🌎 Google announced $3m in funding for eight AI-enabled digital health projects; including a toolkit for midwives in Guatemala, music + wearables for patients with dementia, and a real-time translator for deaf people
💚 Sequoia Capital published a fun dive on Generative AI's Act Two
🤝 Tech giants Gates, Elon, and Zuck all gathered at an AI Insight Forum, where Google CEO Sundar Pichai talked AI's potential to tackle health issues
💬 ChatGPT found the correct diagnosis for a boy with chronic pain after 17 doctors were unable to do so
🔮 Researchers at The Florey used AI to create a model that predicted COVID-19 outcomes and events far more accurately than humans
✋ Med-PaLM 2 is apparently being used by healthcare organisations to improve clinical trial processes, reduce administrative burdens for clinicians, and summarise electronic healthcare records
---
Startup Stuff 🚀
Disability Tech Venture looking for help to scale?
Remarkable just launched their 'Remarkable Scaler' program! 🚀offering Seed to Series A funding and tailored strategic support for Disability Tech ventures. The bespoke program is designed to empower founders developing innovative solutions at the convergence of disability, ageing, and health - More here
Missed the CUREator+ info session?
Brandon BioCatalyst & ANDHealth's biotech incubator will provide successful startup companies up to $5m in non-dilutive funding. Watch the recording of the info session and read the Q+As here
What's your Origin story?
MedTech Actuator Origin is an early-stage innovation program that turbocharges the development of emerging human health technologies and solutions. You could win a share of $10K, gain over $5K in in-kind support, and secure fast-tracked entry into MedTech Actuator Accelerator 2024 - More here
Need support for Research & Development?
CSIRO Kickstart have expanded their program eligibility, offering research support and up to $50k in funding for R&D activities - More here
Woman looking to build a new venture in Vic?
LaunchVic's latest grants saw two killer programs launch to support women with starting and scaling startups. Check out Flying Fox Ventures' killer program, F4, and Press Play Ventures Jumpstart Studio a program supporting women in the corporate sector to transition into entrepreneurship
Do you have a diabetes tech innovation?
The ACADI Health Tech Innovation Challenge offers the opportunity to pitch for seed funding and receive up to $30k to develop your project - More here
Want to build in AI?
JCU Research and Innovation Services is launching the next IMPACT10X AI simulator - with funding and programs for projects looking to help improve healthcare - More here
---
Events💥
28th Sep: Medtech Actuator Innovators Bootcamp (Canberra)
4th Oct: BioMelbourne Network - Precision Healthcare: The New Normal
5th - 6th Oct: MCBK Global Meeting (Aus and Asia)
17th Oct: MedTech Actuator Origin Japan Pitch Night
15th- 22nd Oct: SXSW Sydney
19th Oct: Brilliant Women in Digital Health Awards
25th Oct: AI in Health Readiness Forum (Syd)
Sun 30th Oct: AusBioInvest 2023
30th - 31st Oct: MEDTECH 23 Annual Conference
22nd - 23rd Nov: AI.Care 2023: Advancing Data-Driven Healthcare
---
Consumable Content 💎
🎙️Huberman Lab: Journal Club with Dr. Peter Attia | Metformin for Longevity & The Power of Belief Effects
If you're not already obsessed - HIGHLY recommend Huberman's s knowledge bombs making health and medicine accessible
🇸🇬 Singapore's leading the way with Smart Hospitals. Here's a fun dive into just what's happening there with everything from as smart beds and surgical robots
👵 What's the go in Agetech? The Silver Futures Agetech Startup Map ft Aussie startups just dropped giving an overview of the industry
📝 Halle Tecco created a cheatsheet on how to read and evaluate scientific articles for those not from a science background
💸 a16z released Part A of their "Commercializing AI in Healthcare: The Jobs to be Done" series
---
Thanks to George, Zach, Makenzie, Christopher, Oliver, Annabel, Jasmine & James for sharing fun things that made this drop
---
💡Got thoughts on this?
Or something to include next time?
Hit reply or reach out to emily@whatthehealth.io to let us know!
---
🐦 Find me on the Twitters

💬 Holler on Linkedin

💌 Email

🚀 Want to work with us?

Email us to learn about our sponsor & partner opportunities
---
Alrighty folks, have a great week

👋 Emily,
Jas & team WTH
---
With thanks to our partners 💜