Discover more from What the Health?!
Your TL;DR of happenings, trends & insights in Aussie Health Tech & Innovation
Over 6,000 subscribers
#44 🍩 What the Health - $72.3 Billion needed for Aging, Young Aussies re-engaging & Health Markets be flailing
Your health tech & innovation TL;DR roundup
Oh hey all 6049 legends you!
Last week, we officially cracked the 6k mark (yay!) 🥳 Come at us world domination…
On a similar vein, we had the first-ever SXSW Sydney. It was fun (read - a lot).
But great to get to hang with so many cool peeps, join legends on a fun panel to dissect just what's the go in health innovation, and judge the health pitch comp 💜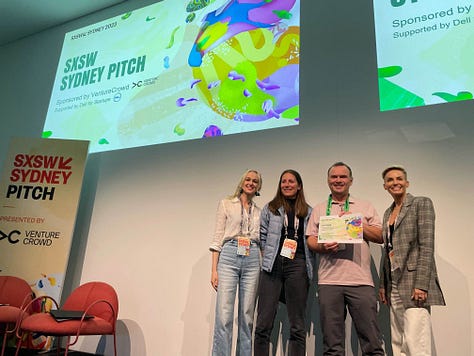 PS - A lot of coffee, sweat and (sometimes) tears goes into this thing. And we love being able to keep the base of it free!

But, how we grow and stay afloat is through your epic support and engagement.

So, if you don't hate it - we'd super appreciate any shares to other folks who might like this too! 💌
Now, onto the good stuff…
New here? Welcome friend 😊 Want to receive the latest drops and join our epic health tech & innovation crew? Join us!
---
As a woman, something I'm stupid passionate about is womens health and the lack of research and tailored resources that actually respect our phsyiology... And work with us, not against us.
Which is why I'm darn excited by this unexpectedly innovative new app from Medibank - Find Your Rhythm: Aus's first cycle syncing well-being and weight loss app.

So what's it actually do? It helps women with the varying dietary and exercise needs they have at different stages throughout their cycles. Aiming to "help women understand and harness their menstrual cycle to support their health goals."
Curious?!


Keen to partner with us or advertise here?
And get in front of Australia's largest and most engaged health innovation community?
Flick us a note!
---
Noteworthy 🗞️
Funding
👨‍⚕️ Heidi Health, the AI startup on the mission to help free GPs from clinical administration snagged a $10m Series A
📱Sahha snagged a $1.75m seed round for its API that pulls mental and physical health data from wearables and smartphones
🚺 ALIAVIA Ventures announced the close of its $13.5m fund for backing female-founded startups
💰Purpose Ventures, the new WA VC, added $8m to its fund hitting $45m
💩 Microba is looking to raise $20m to acquire a UK microbiome company
📉 Kazia, an oncology drug development company, announced its delisting from the ASX
🧪 The Doherty Institute was awarded $2.68m by a non-profit accelerator to fight antibiotic resistance
⚡ CSL signed an agreement to buy all of the electricity required for its Vic operations from AGL (bumping up AGL's share price)
🎯 The Australian Centre for Targeted Therapeutics snagged $15m to fund new targeted protein degrader technology to create next-gen cancer medicines
Newsworthy
📰 The AFR reported that the healthcare sector experienced a 14% decline this year making it the poorest-performing sector of the Aussie stock market
🚨Grant Thornton released their "Key considerations for a capital model to support sustainability in the aged care sector" post Aged Care Royal Commission…
And according to their review a whopping "$72.3b will be required over the next seven years to adequately fund the development and refurbishment of residential care facilities in Australia"

The commission found the number of older people will increase from 3.9m in 2019 to 8.8m in 2058

TLDR; We gonna need more resources
*gulp*
🏆 NanoCube Health, who use nanobots to detect and treat cancers snagged the title and a ticket to SXSW Austin at the SXSW Sydney Pitch Grand Final
📑A new study with the Australasian Menopause Society suggests menopause is being "catastrophised" in the minds of women for potential commercial returns
🐣 Bonnie has just become the first baby born in Aus conceived via CAPA-IVM - a new fertility method developed by UNSW researchers
This new treatment involves retrieving eggs at an immature stage and bringing them to maturity in cell culture and far fewer hormone injections than traditional IVF, at a significantly lower cost.
📆 Medibank is trialling a 4-day workweek
🐎 Ketamine is now being used to treat depression in three clinics in Australia
🦪 Marine Biomedical, a biotech from WQA is using mother of pearl to create synthetic bone for reconstructive surgery
👩‍⚕️Young Aussies have increased spending on private health insurance, with mental health and well-being helping revive the previously spirally industry
👁️ Oculus BioMed partnered with The Centre for Eye Research to develop 'SwitchGene' - an easy to use genetic therapy for diabetic retinopathy
Gov Goss
🩺 The Gov announced $15m for the development of next-gen medicines to better treat prostate and childhood cancer
🏥 MRFF's Indigenous Health Research Fund provided $30.8m for health research co-designed with First Nations people
🖨️ WA's Innovative Fellowships program granted $1.45m on research projects including an AI stethoscope, electrical brain stimulation, and 3D-printed food
🚸The 2023 Childhood Mental Health Research grant opportunity will provide $30m to promote social and emotional wellbeing in children
US & Beyond the Borders
🚁 Amazon Pharmacy has started delivering prescription meds via drone
🏋️‍♀️ Gyms now dishing up Ozempic?
Life Time, a chain of gyms in the US is now trialling a rollout of GLP-1s for members in what continues to be the biggest trend in healthcare of the year
🥼Illumina Ventures announced its plans to launch seed funding and genomics labs for startups in the US and UK
⏳ NHS waiting lists in England have risen to a record high at 7.75m people
📉 The US continues to have the lowest life expectancy despite spending the most
☀️ The Apple Watch can now track how much time you're spending in the sun
📊 Bessemer Ventures analysed 32 US-based publicly listed health techs for insights on the state of health tech in 2023
⚔️ Amazon's healthcare ventures seem to present a "double-edged sword" as it poses opportunities for easy holistic care, but challenges in patient privacy, data security, and ethics
💰Waymark secured $42m to scale tech-enabled community-based care for Medicaid patients and providers in the US
❌ Robin Healthcare, a medical scribe company that raised $50m, is shutting down after failing to find a buyer
Is this the future of many of the booming scribe tools and AI wrappers we're seeing hit the market?
✅ The FDA established a new Digital Health Advisory Committee
To "help the agency explore the complex, scientific and technical issues related to digital health technologies (DHTs), such as artificial intelligence/machine learning (AI/ML), augmented reality, virtual reality, digital therapeutics, wearables, remote patient monitoring and software"
Sick Science
🦠 Are our guts the heart of Alzheimer's disease?
For the first time, researchers have found that Alzheimer's symptoms can be transferred to a healthy young organism via the gut microbiota, confirming its role in the disease
👍🏽 Micro vagus nerve stimulation the future of rheumatoid arthritis?
A tiny battery-powered device the size of a thumbnail – stimulates the vagus nerve with electricity to reboot the body's built-in healing system and could replace drug treatment for those suffering from pain and inflammation caused by the disease.
🏃🏽‍♂️ You only need to Exercise for… a few minutes a day (?) to lower cancer risk
In a study of 22k+ non-exercising adults, adding in <5 minutes of daily vigorous activity (like fast walking or climbing stairs) led to a ~31% decrease in cancer incidence
---
🤖 AI Updates…
💰Microsoft is set to Invest $5 Billion to Boost AI and Tech in Australia over the next two years - bolstering its AI infrastructure and growing data centres. It;s the companies biggest investment in Aus in 40 years
🗣️ Klick Labs have found that combining AI with just 10 seconds of voice recording could screen for type 2 diabetes
🌐 The WHO has released a new publication listing key regulatory considerations on AI for health
---
Startup Stuff 🚀
Early stage founder ready to take your startup to the next level?
Applications for the Startmate Accelerator are now open. The Accelerator provides founders with a network of ambitious peers, the best mentors, investors and operators across Australia and New Zealand, and a $120k investment - Read more
Startup working towards health equity?
The Amazon Health Equity Initiative offers startups focused on health equity up to $5 million in unrestricted funding along with AWS credits and support. Startups working to address social determinants of health in underserved communities are eligible to apply - More here
Vic innovator looking for funding?
The Victorian Medical Research Acceleration Fund (VMRAF) provides grants to accelerate health and medical research. Round 7 is now open will provide $3 million in one-off grants across two tiers: up to $100,000 for early-stage research (Tier 1) and up to $500,000 to fast-track translation of research into health outcomes (Tier 2) - More here
Entrepreneur in the medical and health sector?
NSW Health Commercialisation Training Program's Business Fundamentals is a 3 day course that shares practical advice and guidance on how to establish and set up your health tech business up for success - More here
Uni student keen to learn more about startups?
Startmate's Student Fellowship offers university students and recent graduates a peek behind the scenes of what it's like to work at a startup and life-long access to Startmate's community. Apps are open for the next Summer cohort - More here
You've secured funding for your biotech startup, what next?
Jumar Bioincubator is hosting a masterclass to discuss how to plan for success and keep your investors happy - Get tickets
---
Events💥
7th Nov: Cicada HealthTech Hub: Protecting IP (Syd)
10th Nov: The RNA Platform: The Breadth of Possibility Beyond mRNA
9th Nov: 2023 NSW Medical Devices Fund Announcements (Syd)
15th Nov: ANDHealth Digital Health Summit: Ready for Takeoff (Mel)
16th Nov: Startup to Scaleup Summit (Syd)
22nd - 23rd Nov: AI.Care 2023: Advancing Data-Driven Healthcare
27th - 30th Nov: Digital Health Week NZ 2023
30th Nov: MedTech Actuator Showcase 2023 (Mel)
30th Nov:🎄WHAT THE HEALTH CHRISTMAS PARTY🎅 [Sydney]
7th Dec: 🎄WHAT THE HEALTH CHRISTMAS PARTY🧑‍🎄 [Melbourne]
---
Consumable Content 💎
📚 a16z dropped the next edition of health deep dives; Commercializing AI in Healthcare: The Enterprise Buyer Perspective
Ft. a killer breakdown of what enterprise look for and how it works, where you fit and how to navigate the inherently broken game
🦾 Our friends at The Medical Futurist did a fun biographic on the official list of the FDA and displays the medical fields, types of submissions, and final decision dates all in one place.
🌍 And released their updated thoughts on the Google Health Masterplan
💡 The incredible Cristina Farr dropped her take on VC in health, which selfishly aligns with mine… Resetting expectations for VC investing in health tech
💰 And, we had a lot of the takeaways of our killer deep dive into the Aussie and global health investment landscape the other week ft +85 private crew members!
But it's ok…
You can Apply to join our private community 😉 and join next time
---
Thanks to Bianca, Brian, Jackie, Tom, Dina, Elise, Katya & Laurie for sharing fun things that made this drop!
---
💡Got thoughts on this? Or something to include next time?
Hit reply or reach out to emily@whatthehealth.io to let us know!
---
🐦 Find me on the Twitters

💬 Holler on Linkedin

💌 Email

🚀 Want to work with us?

Email us to learn about our sponsor & partner opportunities
---
Ok. That be all today

👋 Emily,
Jas & team WTH
---
With thanks to our partners 💜